Hey guys, I`m Issy!
First I want to introduce myself. My name is Issy, I'm 32 years old and a passionated foodie, adventurer and explorer. I'm based near Heidelberg, but I've got a crush on the world and seeing stunning destinations through the lens of my camera means the greatest happiness to me.
Together with the best hubby a girl could wish for, I'm traveling as much as possible, chasing new adventures, living the life of my dreams and collecting breathtaking memories.
Today I want to write about my trip to Venice. Most people told us Venice isn't really beautiful… It's old and shabby, it's smelly, dirty, completely crowded and super expensive.Never listen to what others say, go see!
I´ll tell you all about my favorite spots and The known and unknown places to go.
-Piazza San Marco
-Scala Contarini del Bovolo
-Libreria Acqua Alta
-Ponte di Rialto
-Gondola Station Santa Maria del Giglio
-Ponte dei Pugni
-The most beautiful bridges
-The secret landing stage
-Colorful Burano
Travel time and accomodation
When is the best time to visit Venice?
In addition to London, Barcelona and Rome, Venice is one of the most popular cities in Europe. Accordingly it can get extremely crowded in the tiny streets of the historic old town. Especially on long weekends, public holidays and during the holidays Venice is extremely popular. Best advice is to go in the low season like spring or autumn. Avoid the holidays, public holidays and long weekends. We visited Venice in the last week of September and it was amazing.
Where to stay in Venice?
We chose to have our hotel in Mestre, it's the last city before crossing the bridge to Venice. The name of the Hotel was A&O Hostel, it was more than just comfortable, it was a perfect place to stay, clean, friendly stuff and budged fiendly. The bus is driving each 10 minutes to the water taxi station, so I guess we needed between 10-20 minutes to the centre of Venice. One of the main reasons we chose this Hotel was that we arrived by car and the hotel included a private garage.
Day 1
●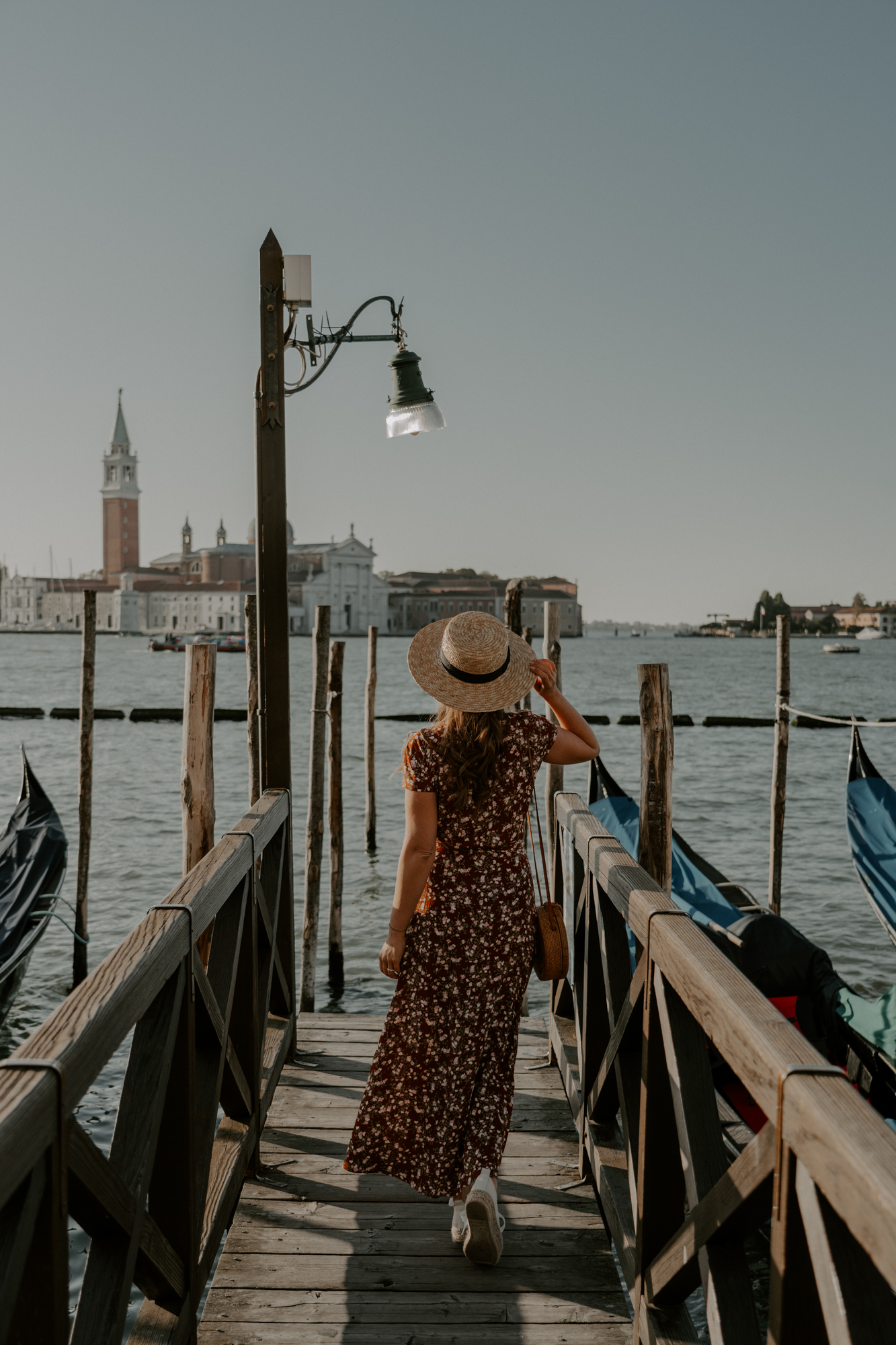 Piazza San Marco + landing stages
Piazza San Marco: This is where we startet our first day. Best way to avoid the big crowds: Be early, super early… We started before the sunrise and arrived in time when the first rays of sun flooded the Piazza San Marco . The light situation was stunning and we had this fantastic place almost for us alone. After snapping some pictures under the arcades and on the Piazza we went to the landing stages with an amazing view across the Laguna of Venice. You need to be a bit lucky here, because the landing stages are mostly closed, but when you find an unlocked one, go for it!
●
Scala Contarini del Bovolo
Scala Contarini del Bovolo: The spiral staircase leading you up to the top, where you have a spectacular panoramic view of the city. The entrance is about a few Euros and it's definitely worth it!
●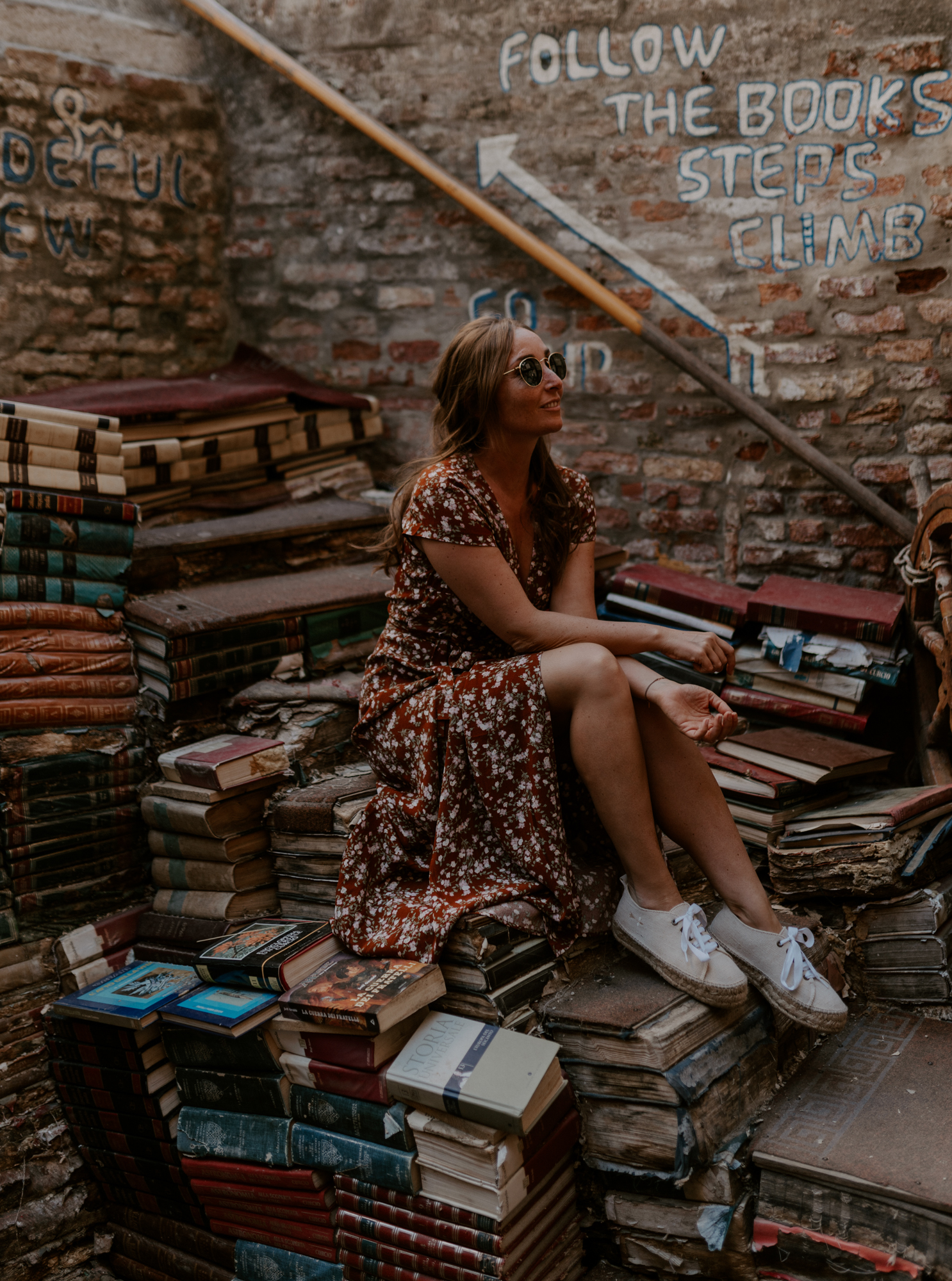 Libreria Acqua Alta
Libreria Acqua Alta: This is Italy's coolest book store. It's based in a quiet area where not many tourists are seen. In this crazily decorated store you'll find second hand books, calendars and postcards. If you're lucky you will meet their super cute cat.
Day 2
●
Ponte di Rialto
Ponte di Rialto: This is where we started our second day. We grabbed some croissants, fresh pressed juice and coffee and enjoyed our breakfast on the bridge and snapped some pictures during the sunrise. We came back for a short lunch break and had a picknick below the bridge on the Canale Grande. The light and the whole place changed… It was extremely crowded, but we didn't care, having there pizza was super nice.
●
Gondola Station - Santa Maria del Giglio
Gondola Station - Santa Maria del Giglio: This is the by far best place for spending the sunrise or sunset, when the light is soft and the canal is painted in warming colors. If you want to take some pictures on the landing stage you can kindly ask the owner of the station.
●
Ponte dei Pugni
Ponte dei Pugni: This quite place was one of my favorite places in Venice. We spend the sunset here, watched the orange and purple colored water of the canal, had some drinks and lots of awesome Venitian Chichetti at the Austeria Ai Pugni.
Day 2/3
●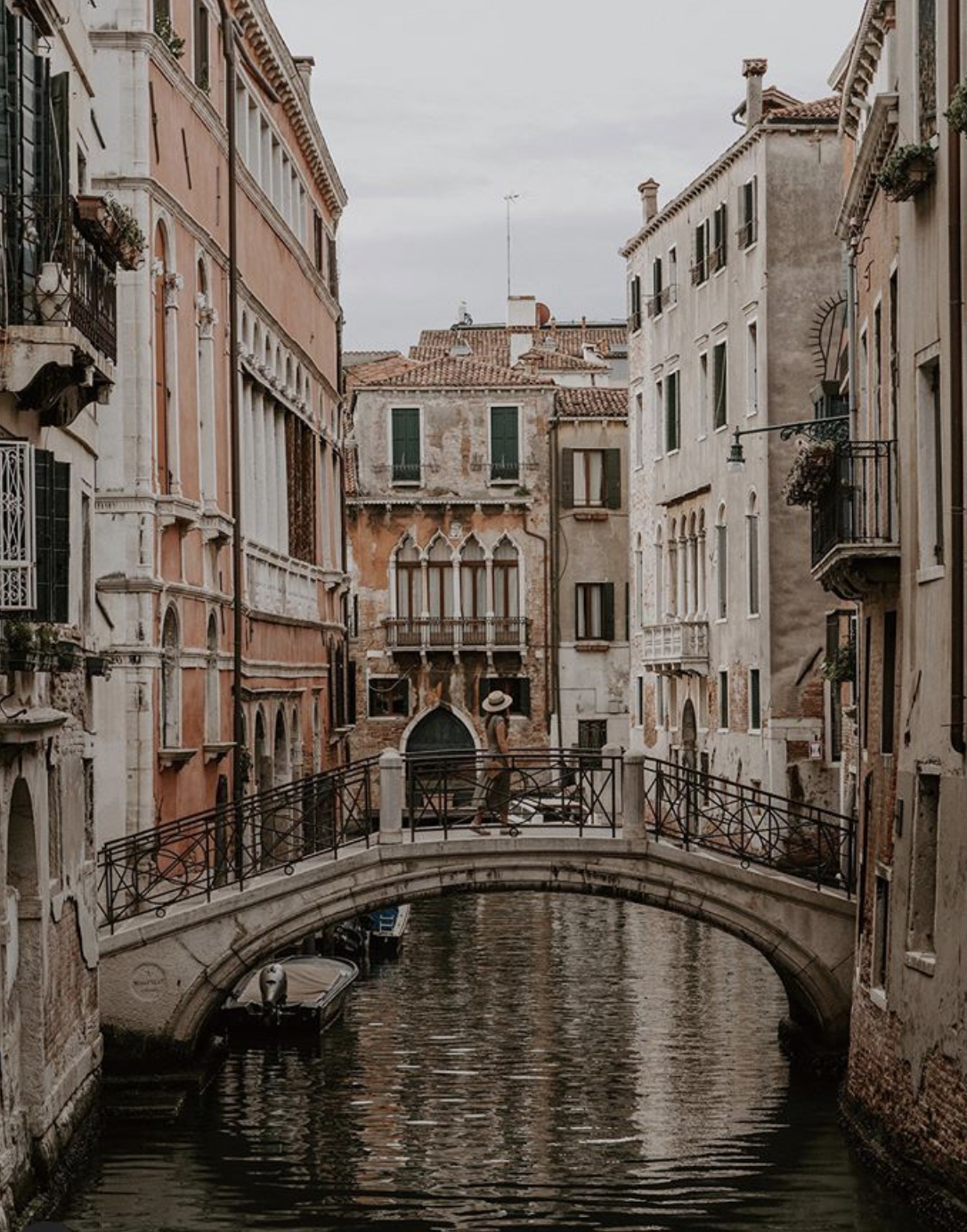 The most beautiful bridges
The most beautiful brides in Venice: The two bridges from Calle Drio la Chiesa to Sestiere de S. Marco and from Calle del Frutarol to Frezzaria. They're close to the secret landing stage on the Hotel San Moise.
●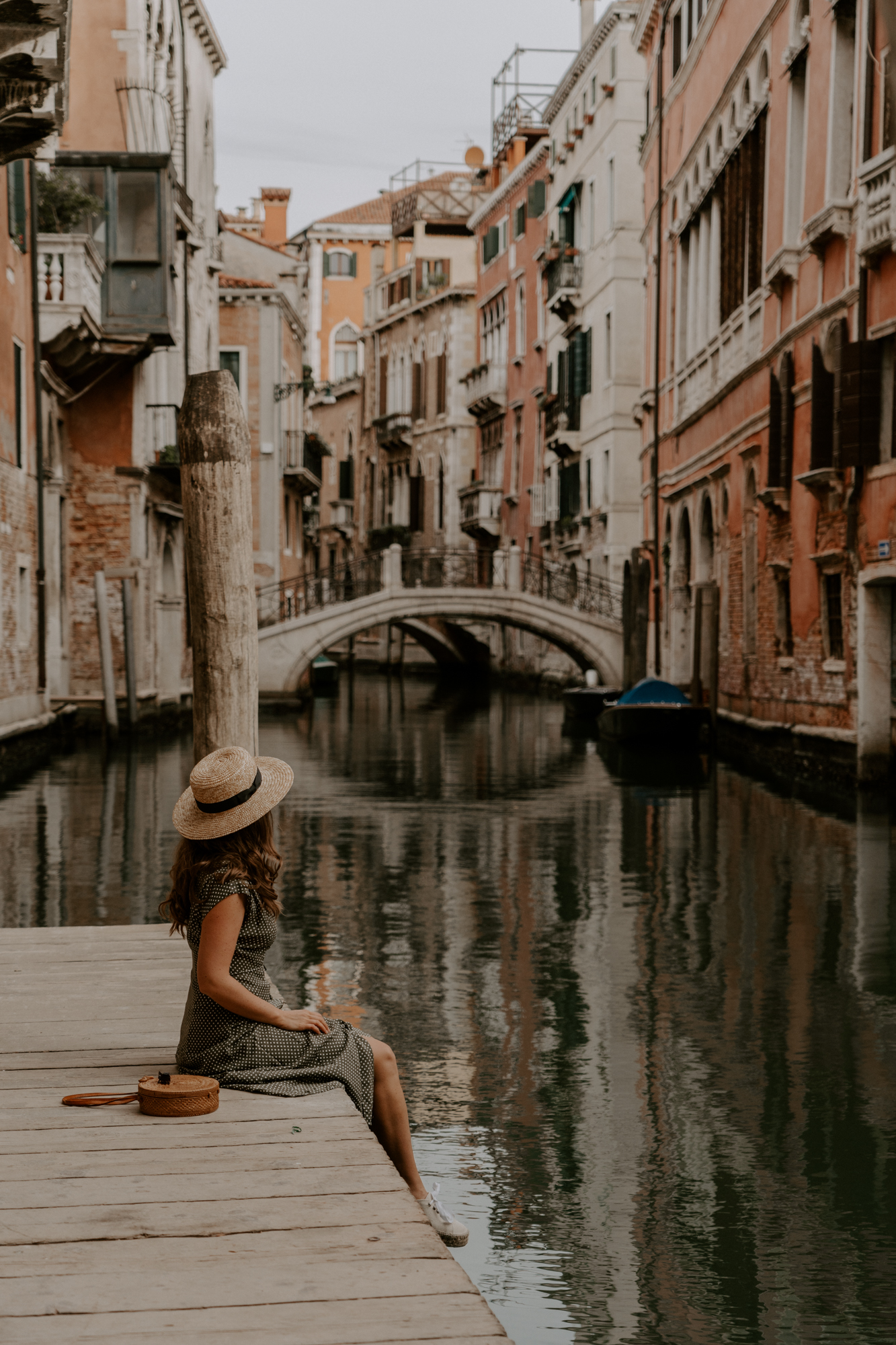 Hotel San Moise
You might know the picture of the landing stage due to million instagram pictures, but no one is sharing where you can find this place. It's still super hidden and you'll just find it when you really search for it. Best way is to give the name of the hotel "Hotel San Moise" into the navigation.
GPS coordinates: 45.433476, 12.335051
●
Burano
Burano: You can spent a whole day in Burano/Murano if you want to. And if you like it colorful, you'll love this place. We strolled on day two through the streets along the colorful houses, took our time, enjoyed a delicious lunch and enjoyed the silence before the crowds felt in. The most amazing spots here: Fondamenta Pontinello Sinistra, Ponte della Vigna, Fondamenta S. Mauro, Fondamenta Can di Rio a Destra.
Where to eat?
A fun fact about Venice is that Aperol is cheaper than a bottle of water, so guys on 11 am our Aperol time started…was so much fun. You can buy it on each corner to go, super sparkly, tasty and unbelievably cheap!
Where to eat?
-Farini offers amazing takeaway pizza
-Antico Forno
-Cantine del Vino gia Schiavi
-Austeria Ai Pugni
-Pako´s Pizza & Pasta, amazing for having a seat or takeaway lunch.
The Gritti Palace, we haven't been there, but this might be the most instagramable spot for having lunch or dinner in whole Venice.We had an amazing dinner at Rosa Rossa.
You can't buy happiness, but you can buy ice cream, and that's kind of the same thing… Right?
Never settle for just one scoop at Gelato di natura and Gelatoteca Suso. This is the very best gelato in whole Italy.